ABW Mobile Pricing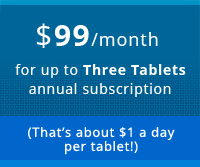 A simple low price of only $99/month for up to three tablets with a one year subscription. With your one year subscription we will also throw in two months free and two hours of technical support for free to help you get setup.
Month-to-Month pricing is $129/month for up to three tablets. Additional technical support is $90/hour billed in 15 minute increments. You only pay for what you need.
Each additional tablet only $25/month.
Contact us for a test drive on your tablet at (972) 905-9573 or email to
Windows version available soon.