ABW Mobile Relay Services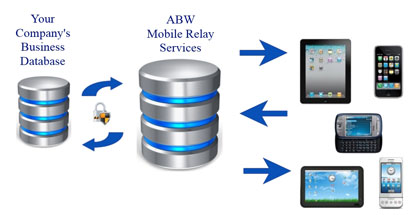 ABW Mobile Relay Services is a system intended to allow mobile devices such as tablets and smartphones to store large amounts of data locally and keep that data updated with little or no intervention by the user. Although these devices will access remote data servers, they require some type of connectivity for the application to function properly. Access to remote data servers does not provide the quick response like data stored on the device.
ABW Mobile Relay Services consists of the following:
Secure links to any ODBC compliant database
Code to maintain the Snapshots from your Company's Business database
The current data on each of your ABW Mobile devices
Code to determine the data changes to be sent to a given device
The REST services to communicate with the device
We provide our base ABW Mobile application that currently operates on iPads and Android tablets. ABW Mobile only gets its data through ABW Mobile Relay Services. Since we developed this application, we have extensive experience connecting mobile devices to ABW Mobile Relay Services. We also will provide your programmers with modules of code to get them started.
If you need to provide large amounts of corporate data securely to mobile devices and keep it up to date effortlessly, you need to consider ABW Mobile Relay Services.
Contact us for a test drive on your tablet at (972) 905-9573 or email to