ABW Mobile Features and Benefits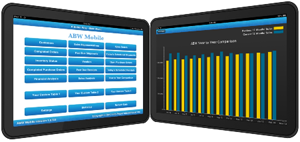 ABW (A Better Way) Mobile extends the functionality of your Enterprise Business System. Built to run on both iPad and Android, it allows more productive On-The-Go interaction with your system's data, quickly and in the background without user input. If your data resides on an ODBC compliant database, ABW Mobile manages secure access to the data without a company having to acquire any additional software or hardware.
ABW Mobile only gets its data through ABW Mobile Relay Services. ABW Mobile Relay Services excels in its ability to transfer massive amounts of changed data very quickly and stores it locally in your device.
Simple To Use
ABW Mobile is designed to be simple when viewing your data and simple when taking an order. Complexity has been left out. Straight forward functionality is built in to work with only the data you need to succeed when face-to-face with your customer.
Quick Quote
ABW Mobile Quick Quote only uses four screens of mostly lookup data. The screens are streamlined to be used when quoting a new customer and detailed information is not needed or is unavailable.
Beyond Quick Quote, ABW Mobile is a full featured Sales Order Entry system with extended information on Customers, Vendors, and Inventory.
Sales Order Entry
ABW Mobile can do much more than a Quick Quote. The intuitive Sales Order screen flow lets you lookup or capture information on Customers, Shipping Locations, Purchase Order Number, Items to be sold, Miscellaneous Charges, Tax and Freight to be added to the sale.
At the end of the Sales Order entry the order can be sent to four email addresses such as your Customer Service team, your Customer, a Sales Manager, or even yourself. On the next automatic refresh your tablet will send the orders to your team for processing.
Simple To Implement
ABW Mobile is simple to implement. Our implementation guide will walk you through the steps to gather required information, setup your read-only ODBC connection, and define the record set you want to relay to your tablet.
We provide you with an application called ABW Snapshot which will connect to your Business System and relay your encrypted data to your tablet. Your IT staff can have data on your tablet in just a few days. Don't have an IT staff? Our support team is here to get you up and going.
Your Data At-A-Touch
Before you ever walk into your Customer's office you can view detail information about the Customer that matters most. Does the Customer have open orders or special pricing? Take a moment to look at order history for trends and potential re-order opportunites.
Contact us for a test drive on your tablet at (972) 905-9573 or email to
Windows version available soon.